CENTRAL OREGON SIX-PACK OF PEAKS CHALLENGE™
Registration for the 2018 Central Oregon Six-Pack of Peaks Challenge opens in early 2018
OVERVIEW MAP OF THE CENTRAL OREGON SIX-PACK OF PEAKS
THE PEAKS IN THE CENTRAL OREGON SIX-PACK OF PEAKS CHALLENGE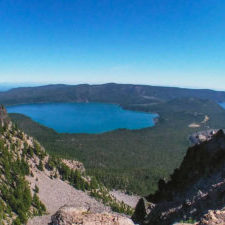 PAULINA PEAK - Elevation 7,989' (2,434 m)
Paulina Peak is the highest point on Newberry Crater, one of the largest shield volcanos in North America. The summit sits on the edge of a 21 mile-long crater rim. The geology of the area is fascinating. Well east of the Cascades, Paulina Peak offers views that extend from Mount Shasta to Mount Adams.
Original Six-Pack route: Hiking Paulina Peak in Newberry National Volcanic Monument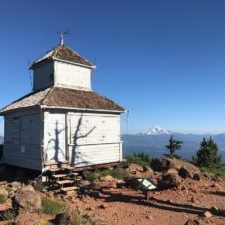 BLACK BUTTE - Elevation 6,436' (1,962 m)
Black Butte is an extinct stratovolcano that sits east of the Cascades, rising 3,076′ above the surrounding plain.  This symmetrical cone-shaped butte is home to an active fire lookout tower, as well as a historic cupola that you can easily imagine must have been the coolest summer digs ever, with spectacular views of Mt Washington, The Sisters and beyond.
Original Six-Pack route: Hiking Black Butte in the Deschutes National Forest
TUMALO MOUNTAIN - Elevation 7,779' (2,370 m)
A shield volcano that rises to 7,779′, giving you great views of the Three Sisters, Broken Top and Mt Bachelor.
Original Six-Pack route: Hiking Tumalo Mountain
BLACK CRATER - Elevation 7,251' (2,210 m)
Snow clings to the north-facing side of this crater late into July. Great views of the Belknap Crater and lava flow, the Three Sisters and Mt Washington.
Original Six-Pack route: Hiking Black Crater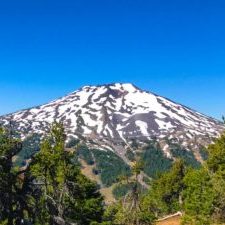 MOUNT BACHELOR - Elevation 9,068' (2,764 m)
Everyone in Central Oregon knows Bachelor. The route up is challenging and the views will whet your appetite for the final peak.
Original Six-Pack route: Hiking Mount Bachelor - coming soon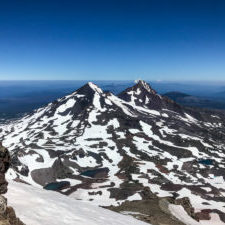 SOUTH SISTER - Elevation 10,363' (3,159 m)
South Sister is the third tallest mountain in Oregon. Summiting this mountain makes the perfect finale for the challenge.
Original Six-Pack route: Hiking South Sister
Peak Black Butte Group Trailhead Black Butte Upper Trail Gorgeous outside today! Wasn't sure if I was going to get in anymore of the 6 peaks after losing so many weeks to the fires, then personal travel. Only had time today to hike from the upper trailhead (4.4 mi / 1750 ft gain). Good […]